Mini Vinnies
What is a Refugee?
A person forced to flee their country because of violence, war or persecution. Most likely, they cannot return home or are afraid to do so (UN Refugee Agency).
What is a Refugee Camp?
Refugee camps are temporary facilities built to provide immediate protection to people who have been forced to flee due to conflict, violence or persecution. While camps are not intended to provide permanent sustainable solutions, they offer a safe haven for refugees where they receive medical treatment, food, shelter and other basic services during emergencies (UN Refugee Agency).
Home Learning Task
Building a community that is compassionate and aware.
How is CAFOD responding to the Coronavirus outbreak?
Families without enough to eat and without clean water or in cramped refugee camps are vulnerable to coronavirus.
Are there concerns about refugee camps?
Imagine living in a refugee camp, where it's almost impossible to isolate your family from others. Coronavirus in camps for Syrian refugees, or Rohingya refugees in Banglasesh, will be catastrophic for millions of people already struggling to access healthcare.
Learned and wise
We want to raise awareness about this topic. This half term we are growing to be learned and wise. We are learning to find God in all things and be wise in the way we use our learning for the common good. We are encouraging you to participate in conversations, show kindness and empathy.
The Cardiff Must Act team are encouraging pupils to get creative and design their own posters that include a message of solidarity and state that refugees are welcome. Alternatively sample posters are available to download below.


Refugee Week - Home Learning Task
Discussion Questions
The theme of this year's Refugee Week is: 'Imagine'.
Imagine you meet a refugee who is the same age as you. What questions would you like to say to them?
Imagine being a refugee and walking through your hometown for the first time. What you think and feel?
Imagine you had to leave your home and move to another country. What things would you miss the most? How would you feel?
Imagine you are welcoming a refugee who is the same age as you to your town or city. What would you do to make them feel welcome? What things would you show them? How would you describe our hometown to them?
During the month of May, it has been a tradition to honour the Blessed Virgin Mary. In Church an altar dedicated to Our Lady is erected with a statue or picture of Mary, flowers and perhaps candles. The altar stands from May 1st to 31st as a reminder or Mary's importance in the life of the Church and in our own lives as well. Additionally, many Catholic churches and families hold a "May Crowning," presenting Mary with a crown made of blossoms or other hand-crafted materials to signify her importance as the mother of Jesus Christ, the king.
Pentecost
For Christians, Sunday is the special day of the week. It is the day on which Jesus rose form the dead and is considered to be a day of rest. Pentecost is a celebration of the gift of the Holy Spirit, through whom the risen life of Jesus is given.
John 14:26 The Helper, the Holy Spirit whom the Father will send in my name will teach you everything and make you remember all that I have told you.
Ascension Day
After Jesus' resurrection, He appeared to the disciples and made a promise to send his Holy Spirit to them (This is based on John 13:13; 14:18).
The promise of the Spirit
Pentecost: the holy day

The disciples were afraid when Jesus had left them and they had gathered together in one room. The coming of the Holy Spirit at Pentecost changed them. It is a holy day because this gift of the Holy Spirit is very Special. The Holy Spirit helps and guides us in our lives just as happened to the disciples. The Holy Spirit appeared to the disciples like tongues of fire, giving them strength and courage.
Distant Learning Activities
Lent: An opportunity to change

Lent is a time to look at the ways in which we change in a special way: change 'inside'. People can change and become more loving, kinder and more helpful - and all that happens 'inside' them. It is a time when the family of Jesus try to change and be more like Jesus.

"In the same way, let your light shine before others, so that they may see your good works and give glory to your Father in heaven."
Matthew 5:16
Footsteps to Jesus: an opportunity to walk together in the footsteps of Jesus
Lent is a special time when the family of Jesus think about making a new start. There are occasions when everyone wishes they could make a new start. They wish they could do things differently and not have said or done something unkind or hurtful. It is a time when the family of Jesus try to change and be more like Jesus.
School Altar – Season of Lent
Each month it is our role to decorate and change the altar according to the liturgical season. During Lent, the altar is covered with a purple cloth. Purple is traditionally a royal colour and have a purple cloth helps people remember that Jesus is King and he died at Easter for us.
Our Lenten Promises
Zac Yr5
"To live the Gospel message as I worship, learn and play."
Ffion Yr6 "To live out our school virtues – faith-filled and hopeful."
Jessica Yr5 "Attend Mass every Sunday."
Olivia Yr2 "Use kind hands and kind words."
"My Lenten promise is to live the Gospel message as I worship, learn and play."
Distance Learning: 40 Random Acts of Kindness
Lent 2020: Supporting Communities Overseas
Football Fundraiser/Non-Uniform Day on Friday 13th March
"There is an urgent challenge to protect our common home…but people still have the ability to work together to do it."
Pope Francis Laudato Si'
Pupils' football fundraiser helps protect the Amazon rainforest
During Lent CAFOD is inviting schools to think about other communities around the world.
St Philip Evans RC Primary School has joined a national campaign which is working to protect the Amazon Rainforest and the lives of the communities who live there.

The Mini Vinnies have decided to organise a football fundraiser in support of international development charity CAFOD in achieving their goal of protecting the Amazon Rainforest and its inhabitants.

On Friday 13th March we will be holding a Non-Uniform Day – football themed. Wear your team colours with pride and £1 donations to participate in this event are most welcome and very much appreciated.

On this day, each year group will also participate in a football themed activity e.g. Penalty shootout competition, target practice, a football match and a keepie uppie challenge.
CAFOD

Lent 2020 : What's your goal? Watch our film for Lent 2020 and help people in the Amazon Rainforest to defend their rights. What's your goal?
Caring for our common home
The amazon rainforest is crucial to the planet's climate. But people are not caring for our common home, caring for the Amazon region, and both the rainforest and the climate are in a critical state.

More than one football pitch of rainforest in the Amazon is being lost every minute.

Defending the rainforest
The Amazon rainforest is very important for the Earth's climate. It also supports lots of animals like the South American Jaguar, the Howler Monkey and many more.
The rainforest covers over 2 million square miles, including 9 countries. Sadly though, we are losing the rainforest. Other people are moving into the rainforest and chopping down and burning trees. They are doing this to make space for mines and farming, and to use or sell wood.
Jesuit Pupil Profile - Compassionate and Loving
Compassionate and Loving
This term pupils at St Philip Evans RC Primary School pupils are growing to be compassionate towards others, near and far, especially the less fortunate; and loving by our kind actions and forgiving words.

It is the Mini Vinnies aim to help our school community grow by being compassionate and loving in the way pupils are treated, especially when a pupil is in trouble; and by opening pupils' eyes to those who suffer poverty, injustice or violence.

Jesus' great commandment is "Love one another." (John 13:34) The more we love others, the more we are truly human and most truly ourselves.

Of course, it is easy to love those who love us. In speaking about love, Jesus throws out the challenge to take love deeper: "You have heard that it was said, 'You shall love your neighbour and hate your enemy.' But I say to you, 'Love your enemies and pray for those who persecute you.'" (Matthew 5:43-44) This is where love becomes challenging. To love in this way is to love as God loves.
Nadolig Llawen
Cardiff Night Shelter
During the season of Advent the children at St Philip Evans RC Primary School have been collecting donations for the Cardiff Night Shelter Project. Deacon Mike who coordinates the Night Shelter at St Peter's RC Church in Roath sends his sincere appreciation and blessings.

The Night Shelter will open its doors tonight for the first time over the winter period. Due to the generosity and kindness of the pupils at our school, the church will be filled with endless supplies of toiletries, warm clothes and board games which will enable those less fortunate to wash and sleep warm and be comfortably.

We are overwhelmed with the gifts and donations we have received. Diolch yn fawr a Nadolig Llawen!
Christmas Jumper Day – CAFOD World Gift
Congratulations to everyone at St Philip Evans RC Primary School for raising a total of

£253.50

for

CAFODS world gift project

. With this donation we are able to purchase a number of gifts for families living in poverty. The Mini Vinnies have chosen the following gifts; a home for life, the goat that gives and water for a family. Thank you ever so much for your kind donations.
CAFOD World Gifts
Christmas Jumper Day – Friday 13th December
On Friday 13th December it is Christmas Jumper Day. We will be fundraising with CAFOD (Catholic Agency for Overseas Development). We will be helping change the lives of some of the world's poorest women, men and children. To find out more please follow the link below. Children are encouraged to wear a Christmas jumper and £1 donations are welcome and appreciated! Diolch yn fawr for your support!
CAFOD World Gifts

World Gifts are CAFOD's alternative charity gifts that transform lives. Gifts range from 'The Goat that Gives', 'Water for a family', 'Chirpy Chickens' and many more. These virtual gift will make a real difference to a family living in poverty. The Mini Vinnies want to raise as much money to buy as many gifts as possible. Diolch yn fawr for your continued support.
The Advent Wreath
Make a world of difference this Advent

Advent: a time of waiting to celebrate Jesus' coming at Christmas.

Advent is a special time of preparation. The word Advent means 'coming' or 'arrival'. It is a time that we use to celebrate our anticipation of Jesus' birth.

The Advent wreath is a symbol of the beginning of the Church year. It is a circular evergreen wreath with five candles, four around the wreath and one in the centre. The circle of the wreath reminds us of God Himself, His eternity and endless mercy, which has no beginning or end. The green of the wreath speaks of the hope that we have in God, the hope of newness, of renewal, of eternal life. Candles symbolise the light of God coming into the world through the birth of His son.

1st Sunday of Advent
Matthew 24: 37-44

Jesus said to his disciples "As it was in Noah's day, so will be when the Son of Man comes. For in those days before the Flood people were eating, drinking and having a good time, right up to the day Noah went into the ark, and they suspected nothing till the Flood. So stay awake, because you do not know the day when your master is coming. You may be quite sure of this: that if the householder had known at what time of night the burglar would come, he would have stayed awake and would not a have allowed anyone to break through the wall of his house. Therefore, you too must stand ready because you do not know when the Son of Many is coming."


Cardiff Churches
Winter Night Shelter - Donations

What is the Night Shelter?
Every winter the Cardiff Churches get together and run a Night Shelter at different locations around Cardiff. The Night Shelter offers a hot evening meal, a cuppa, a chat and the chance to play board games, a safe place to sleep, normally a cooked breakfast and often a packed lunch.
How can we help?
Deacon Mike from St Peter's RC Church met with the Mini Vinnies to discuss how the community of St Philip Evans Primary School can help those in need this winter.
If you would like to support the Night Shelter the following donations would be greatly appreciated:
Socks

Toothbrush

Toothpaste

Soap

Shower gel

Shaving foam

Flannels

Hats/scarves/gloves

Underpants/underwear

Board games

Shampoo

NO FOOD (the shelter provides cooked dinners/breakfasts)
We kindly ask that you deliver these items to your class teacher by Friday 20th December. Thank you in advance for your donations.
The Cardiff Night Shelter Project
In Matthew chapter 25 we read of a very powerful statement about what the Body of Christ, the church, should be doing. When we visit those who are sick, those in prison, feed the hungry, clothe the poor, Jesus says "Truly, I say to you, as you did it to one of the least of these my brothers, you did it to me" (Matthew 25:40) so don't think of it only as doing for others but in doing for others we are doing it for Christ.
November is the month of Holy Souls

As the weather grows colder and the leaves fall, and Thanksgiving and Christmas approach, it is natural that our thoughts turn to those whom we have loved who are no longer with us.
How appropriate, then, that the Catholic Church offers us November, which begins with All Saints Day and All Souls Day, as the Month of the Holy Souls in Purgatory.
Who will you remember?
Who will you pray for?
November is the month of the Holy Souls
31ST Sunday of Ordinary Time
Luke 19: 1-10
One day Jesus was going through Jericho. Everyone was excited because Jesus was coming to the town. A man called Zacchaeus lived in the town. Zacchaeus was a tax collector. His job was to collect money from everyone, even the poor people. People thought that Zacchaeus was a bad and selfish person. When Zacchaeus heard that Jesus was coming he ran to see what all the fuss was about. He couldn't see Jesus so he climbed a tree nearby. Jesus saw him in the tree and called him down. Jesus went to Zacchaeus' house and the people of Jericho were shocked. Jesus made Zacchaeus give everything back to the poor people. He changed him into a better person.
Story summary by Ffion (Yr6) and Maya (Yr5).
This reading is about conversion. Conversion could be described as a change in one's belief or lifestyle – a change of heart that results in a change of living. In this passage Zacchaeus, who is a wealthy tax collector, decides that he wants to meet Jesus, and subsequently gives half of his property to the poor.

Something to think about….
Why did Zacchaeus seek out Jesus, especially considering that he is described as a 'senior tax collector'?
Do you think Jesus should have called Zacchaeus down from the tree and gone to his house?
Do you think the other people who saw this were entitled to complain that Jesus "has gone to stay at a sinner's house"? Do you think Jesus forgave Zacchaeus for his sins?
Forgive me lord for being greedy.
Lord have mercy.
Forgive me for shouting at others.
Lord have mercy.
Forgive me for being selfish.
Lord have mercy.
I did not think of others.
Lord have mercy.
I did not share with others.
Lord have mercy.

Forgiveness prayer by Leah (Yr6), Zac (Yr5) and Niall (Yr6)
Mini Vinnies' Prayer

Lord, Thank you for our gifts and talents.
Lord, Show us who needs our help.
Lord, Use our hands to help those who are hungry.
Lord, Open our hearts to love and comfort those who are sad and lonely.
Lord, Let us share our time, gifts and talents with those in need.
Lord, Help us to care for the sick.
Lord, May we all help and support each other as children of St Philip Evans RC Primary School to build a better world.
Mrs Trigg spoke to us about the Society of St Vincent de Paul. She told us that the society helps those who are lonely and poor. She discussed the work of other SVP groups within our local area, for example, the work in other schools, parish groups and the Youth SVP. Mrs Trigg told us that we are all one big family who share the same mission – to help the poor and lonely people in the world.
Mrs Trigg talked about our 'See, think, do' model. This is a way of connecting our beliefs with our actions.
By Maya and Emily.
The Life of St Vincent de Paul
He thought he was better than other people and was ashamed of his family who were poor.

When he was older he felt sorry for the way he had treated his family and wanted to help them.

When he was 20 be became a Priest and he travelled to Rome and Paris looking for a parish where he could make money.

He gave money to the poor in the street, and the sick in hospital. By Aaron (Year 5)
Our meeting with the Young Vincentian Development Officer
28th Sunday of Ordinary Time

Be Thankful
Jesus was on his way to Jerusalem. Travelling from Galilee to Samaria, he came into a small town. Ten men met him there. These men did not come close to Jesus, because they all had a harmful skin disease. But they called to him, "Jesus! Master! Please help us!"
When Jesus saw the men, he said, "Go and show yourselves to the priests."[
While the ten men were going, they were healed. When one of them saw that he was healed, he went back to Jesus. He praised God in a loud voice. Then he bowed down at Jesus' feet and thanked him. (This man was a Samaritan.) Jesus asked, "Ten men were healed; where are the other nine? Is this Samaritan the only one who came back to thank God?" Then Jesus said to him, "Stand up and go on your way. You were healed because you believed." Luke 17: 11-19
27th Sunday in Ordinary Time
Who is the Holy Spirit?

This week the Mini Vinnies have been learning about the Holy Spirit. We recognise that the Holy Spirit has been sent by God to guise us. Our Christian belief about the Trinity is that God is three Persons: the Father, the son, and the Holy Spirit.
By Oriel (Year 6) and Jesse (Year 3)

The Holy Spirit is our helper.
He helps our hearts feel better when we are sad – John 14:16-18.
He helps us be brave when we are scared – 2 Timothy 1:7
For God did not gives us a spirit of timidity, but a spirit of power, of love and of self-discipline. The Holy Spirit can guide us so we are not afraid to speak up or do something which would otherwise be overwhelming! With assistance of the Holy Spirit the things which scare us or make us timid get completed covered up!
2 Timothy 1: 6 – 8, 13-14
The Holy Spirit is often depicted as a dove, based on the account of the Holy Spirit descending on Jesus like a dove when he was baptised in the Jordan. This week we used our fingerprints to collaboratively make a picture of a white dove.
Thanksgiving Prayer
Annwyl Iesu,
Thank you for sending the Holy Spirit.
Thank you for sending us your love.
Thank you for the roof above our heads.
Thank you for the earth and the creatures.
Thank you for food and water.
Thank you for the live you have provided us.
Amen.
By Max (Year 2), Archie (Year 4) and Maya (Year 5)
25th Sunday in Ordinary Time
This week the Mini Vinnies have been discussing 'Stewardship'. Stewardship comes from the word, 'steward.' A steward is a person who takes care of something.
A parent takes care of children.

A farmer takes care of the land.

A doctor takes care of sick people.
Stewardship in the Bible is one of the lessons you need to learn as a disciple of Christ. Stewardship begins with the very first verse. We see in this passage that God is the creator of everything: He created the universe, the earth, and he created you.

We must look after all that God created for us. We have created a thanksgiving prayer that thanks God for giving us ownership of His wonderful world.


Thank you God for the wonderful world.
We will take care of it.
Thank you God for all the animals.
We will look after them.
Thank you God for the trees.
We will plant more.
Thank you God for the oceans.
We will keep them clean.
Thank you God for our precious family and friends.
We will love them.
Thank you God for our teachers.
We will grow and learn.
Prayer by Niall (Year 6) and Leah (Year 6)
Our Mission
The St Vincent de Paul Society aspire to live like Jesus through our "See, Think and Do" model. We want to spread love and respect across our school community and the wider world. We want to help the poor, sick and vulnerable.
We meet with Miss Bishop and our peers every week to talk, share ideas and concerns and try to help those in need. We follow the 'See, Think and Do' model. 'Seeing' means finding out about troubles in and around our world, for example sick people or poor people. 'Thinking' is the next stage. This is an opportunity for us to think about these problems and plan how we can help fix them. The final stage is 'Doing' and this means that we will do something about the issue, for example hold a fundraising event in our school.
We make sure that others in our school are happy because we look out for people who are alone. We want everyone in St Philip Evans RC Primary School to feel loved and happy.
We are proud to represent our school while fundraising for our local and wider community. It puts what we learn in our Come and See lessons in the classroom into practice – we are living our faith within our school.

By Ffion (Year 6) and Aaron (Year 5).
Mini Vinnies September 2019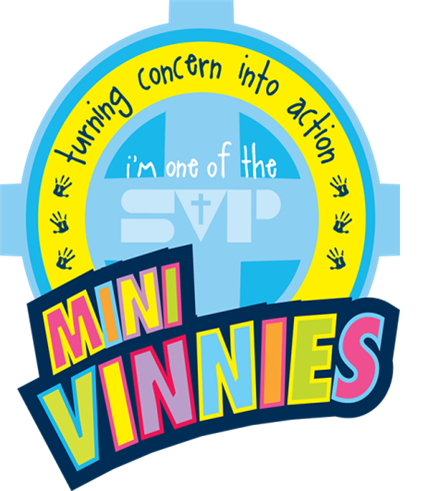 Mini Vinnies 2018/2019
A big hello from the Mini Vinnie Committee 2018/19!
Year 2 Mini Vinnies
Year 3 Mini Vinnies
Year 4 Mini Vinnies
Year 5 Mini Vinnies
Year 6 Mini Vinnies
As part of the Mini Vinnies Committee, we gather and pray together in school and to talk about those around us who need our help, and think of ways they can help those people.
We have been thinking of ways we can help people during Lent and the promises we can make to Jesus during this special time.